DeSoto County Schools names Administrator of the Year
---
DeSoto County Schools names Administrator of the Year
By Amelia Middleton

Updated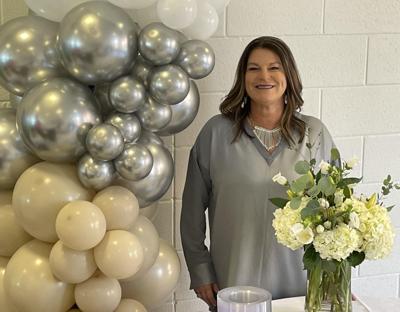 DeSoto County Schools named Lewisburg Primary School Principal Jeannie Treadway Administrator of the year for 2022.
Treadway began at Lewisburg before the primary school which now serves prekindergarten through 2nd grade was built. Once the new school was ready, Treadway took over as principal.
"I have 19 years of experience, and I've been at Lewisburg for 16 years. I was an intern as an assistant principal," Treadway said. "We opened this school, and I started as the head principal here, so I've been here since it opened. It's a family, it really is. I love everyone that I have around me here, and I have the best families and parents surrounding me, too. I can't be grateful enough for that because I know that a lot of schools don't have that kind of support."
Treadway said education runs in her family. She grew up with parents and several family members that were all involved in the public school system.
"I come from a family of educators," Treadway said. "My dad was a superintendent. My mom was a second grade teacher, and my brother was a counselor, administrator and now he's at the district level. At one time we had about 10 different family members in the state of Mississippi that were public educators. Even my paternal grandfather was a coach, school bus driver and a school board member."
Treadway said one of her goals is to assist her teachers and staff in any way she can.
"I got into education because I wanted to be able to provide my teachers with things and resources, and I try to never forget that I was that teacher that needed support at one time," Treadway said. "I want to try to help them and take anything off of their plate that I can."
Lewisburg Primary School was recently ranked second out of all K8 schools in the state. Treadway said she credits her teachers and their dedication to their students for the honor.
"Right now, we're the second best K8 school in the state of Mississippi," Treadway said. "That's a first because it's always been the high schools and the middle schools that you see, but now they're taking back data and looking at growth. You've just have to do what you have to do for children. Some kids come in reading, and some don't. I think that that's just standard, but understanding where they are is the most important thing you can do. I credit great teachers. I'm blessed to have some of the best in the state of Mississippi. You can't have great schools without great teachers."
Treadway said Lewisburg Primary's reputation for excellence comes from the high standards each employee is held to.
"We have a lot of high expectations," Treadway said. "Everybody that works here has high expectations for each other. If you don't have that, then what happens? Well, if you don't have high expectations then you must have low ones. So, understanding the importance of giving these kids your all every single day is imperative."
Treadway said one of her favorite parts of administration is being able to see her students grow.
"Kids grow at different rates, and when that lightbulb goes off in them, it means everything to me," Treadway said. "Kids want to succeed, they want to do well. So, when you get to see them grow and have that sense of pride, it's everything."
Another goal for Treadway is to teach the importance of literacy and encourage children to enjoy reading.
"I love teaching kids to read and to love to read," Treadway said. "I always tell them that reading is a hobby even if they don't see people in their family read. Trying to push that love of literacy is important to me. We have an early morning checkout every morning. Kids can get here early every day to check out books so that they don't have to wait until their library day rolls around to check out a new book."
During her time at Lewisburg Primary, Treadway said she has prioritized encouraging her staff and others to pursue education and personal growth.
"I love empowering leaders," Treadway said. "On the leadership side, I've hired 4 or 5 former PTO presidents. One of them is now an EL teacher for the district. I've had teachers that are now assistant principals in the district. I try to empower them to keep going and keep learning. Stagnant is not good. I've got about 5 teacher assistants working on their degrees. I'm constantly looking at what they're doing to better themselves. We're in the education field and we need to model that dedication to education."
Treadway said educational growth is just as important for her staff members as it is for the students they are teaching.
"Educators should be that way, they should always try to better their practices, and I try to model that," Treadway said. "I always say that doctor's don't get out a manual to read when they're going to do surgery on you. They don't have to. They know their practice. The same thing goes for us. If you don't know it that way, that means you need to look into it more. My teachers embrace that."
Lewisburg Primary resumed school from Winter Break on January 4. Treadway said she was looking forward to seeing the excitement on students' faces to return to school.
"When the kids come back on Wednesday, they're going to be so excited, and we will too," Treadway said. "It's going to be like the first day of school all over again, and it's sweet to see kids loving to come to school."
Treadway said she is proud to be a part of DeSoto County Schools, and she knows being named Administrator of the Year is an honor that she didn't anticipate.
"It's a huge honor to be named Administrator of the Year," Treadway said. "DeSoto County Schools is so renowned around the state. When we go to workshops or seminars around the state and people see that nametag, you can see it on people's faces. They know about the reputation DeSoto County has. It's a badge of honor. It's really powerful."
Although being named Administrator of the Year is a huge accomplishment, Treadway said she is using it as an opportunity to push herself even more.
"I'm a product of DeSoto County Schools," Treadway said. "I graduated from Horn Lake High School. I could never see working in another district. Being named Administrator of the Year also makes me check myself a little. Never be too proud, so I try to be humbled by it. I was raised a Christian and taught that you should always be humble. I want to make sure I continue to do a good job and that I do whatever my students and staff need me to do."